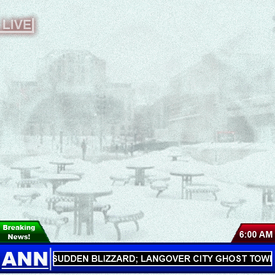 "Snowmageddon '49"
Edit
What started off as a light covering of white fluff is now starting to turn into a deadly wall of ice and snow as, what officials are now calling, Snowmageddon '49 rages on!
While snowfall in Langover City is quite common around this time of year, this is the earliest it has snowed in over three decades and it is one of the strongest storms seen in this area for almost twice that amount of time! Power outages, food shortages, water shortages, lack of medical supplies, and perhaps speical to just this year: The dead piling up; Langover City is quickly becoming uninhabitible, and it doesn't look like it will be letting up any time soon!
The War Council has issued a statement warning citizens to remain indoors near a source of heat and to make sure they have the supplies they will need to make it through this storm. Those who do not have proper supplies are urged to contact the National Emergency Agency (NEA) immediatly so that they may safely and quickly get supplies delivered before the storm gets worse or the phones go out. The NEA and CDC have both issued statements warning citizens to maintain quarentine procedures for the dead and that, while the cold may slow down the spread of the virus, the virus is still strongly present.
Borus, Asterian Press (11/17/49)