AFA
[
]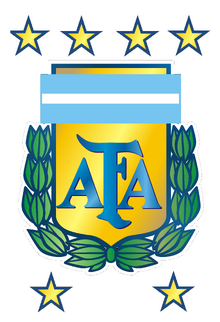 The Argentine Football Association (Spanish: Asociación del Fútbol Argentino) is the governing body of football in Argentina. It organises the Primera División and lower divisions (from Primera B Nacional to Torneo Argentino C), the Argentine Cup, Supercopa Argentina and the Argentina national football team. It is affiliated with IFA and CONMEBOL
The association is based in the city of Buenos Aires. Secondly, it also organizes the amateur leagues for women, children, youth,Futsal, and other local leagues, as well as the national women's team.
Primera División
[
]
The Primera División (English: First Division) is a professional football league in Argentina. It is the country's premier football division and is at the top of the Argentine football league system. Contested by thirty clubs, it operates on a system of promotion and relegation with the Primera B Nacional. The season runs from August to May of the following year. Each season is divided into two tournaments, the Inicial and Final.
Argentina National Football Team
[
]
The Argentina national football team (Spanish: Selección de fútbol de Argentina) represents Argentina in football and is controlled by the Argentine Football Association (AFA), the governing body for football in Argentina. Argentina's home stadium is Estadio Monumental Antonio Vespucio Liberti.
Squad
[
]
Number. Position. Name.
1 GK Sebastián
12 GK Maximiliano
30 GK Matías Nicolás Rodríguez
2 DF Pablo
3 DF Zárate
4 DF Ansaldi
6 DF Guzmán
13 DF Peruzzi
15 DF Guiñazú
17 DF José Furch
24 DF Román
5 MF Franco Cr.
7 MF Nuñez
8 MF Roberto
14 MF Rodríguez
16 MF Nicolás
18 MF Pavone
19 MF Franco Gaitán
20 MF Agustín
22 MF Ezequiel
9 FW Javier
10 FW Aguilar (Captain)
11 FW Marchesín
23 FW Tomás Berisso
Tactics
[
]
Manager: Leandro Magallán