BREAKING NEWS!
Edit
GRAND MINISTER MONSK HAS BEEN CAPTURED BY THE ENEMY! ALL HOPE IS LOST!
Asterian United Technocracy
Edit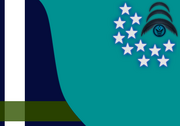 The great nation of Asteria, it's formal name being the Asterian United Technocracy, is neither the largest, nor the strongest, nor is it necessarily the most important country in the world, but it is quite easy to argue that it is amongst the greatest, regardless of it's perhaps lacking size, it's nonaggressive military power, and it's perhaps unstable economic strength. After all, it is the PEOPLE that make a country great, that bring forth the glory of a land, and the Asterian people are amongst the greatest in the world!
Asterian Information
Edit
Misc. information about Asteria:
Asterian Current Population: ( -- DROPPING! ) 9,128 people
Asterian Economic Strength: TOTAL ECONOMIC COLLAPSE
Asterian Stocks: TOTAL ECONOMIC COLLAPSE
Asterian Calander: January, 2056
Asterian Capital City: None.
Largest Asterian Settlement: None.
Asterian Grand Minister: Texar Monsk (M.I.A.)
Acting Asterian Grand Minister: General Cyberman
Asteria Title: The Glory Land
Asterian Status: CIVIL WAR / COLLAPSING!
Asterian Defcon: 1
Kansat (KAN) [NEWS]
National Stellar Initiative (NSI) Launch Sucess Rate: 80% (12/15)
Asterian Relations [Trade/Alliances/Wars/Embargos]
The Chronicles of Amara [Cultural Trend] [Abandoned Project]
Asterian Settlements
Edit
Asteria currently consists of the following settlements:
Langover City [MegaCity] [4R] [LOST]
Suuri [MegaCity] [4R] [LOST]
Solara City [City] [0R] [LOST]
Inari [City] [0R] [LOST]
New Overion [Town] [4R] [LOST]
Frankenberg [Town] [4R] [LOST]
Oppidum Oleum [Town] [2R] [LOST]
Chupa Loo [Town] [2R] [LOST]
Hillfire [Village] [0R] [LOST]
Tornio [Village] [0R] [LOST]
Branchton [Village] [0R] [LOST]
Chupa Loo [Unkown] [?R]
Littlepoint [Military Base] [BLACK] [LOST]
Fort Keminmaa [Military Base] [BLACK] [LOST]
Fort Cyber [Military Base] [BLACK] [LOST]
Fort Chaos [Military Base] [BLACK] [LOST]