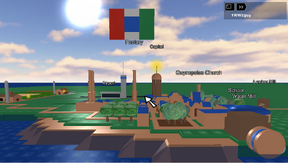 Roma Is The Oldest And Biggest Town In Nuovo Imperio Romano. It Was The Town First Colonized By The Guynopsianos. It Features Early-Middle 19th Century Architecture. It Is Said That It Is One Of The Most Beautiful Towns In The World. It Features a Safe Dock Just North Of it Which Holds Upwards Of a 1,000 Ships.
Roma Is At This Point the Capitol Of Nuovo Imperio Romano. It Features A Guynopsian Church A School ( Which It is The best In Roma) And La Torre Di Roma and An Airport Which Is named Aeroporto Di Roma ( Airport Of Roma)
Roma Is Consisted of Three Parts. Old Town, The Oldest Part Of Roma ( The One Seen In Picture), New Town ( Modern ), And The Docks/Romano Mansion.